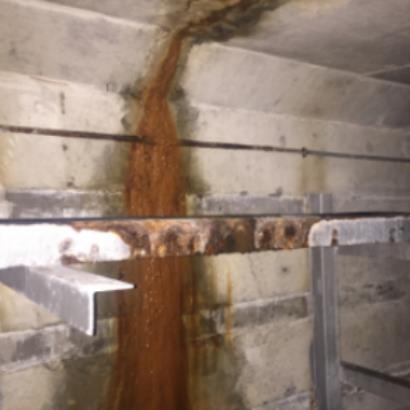 1.Description
Common disease types of culvert include joint leakage, corrosion, foundation settlement and wall cracking caused by uneven stress on the structure. For example, water leakage in the electric power culvert will cause catenary tripping and discharge leakage, which will affect safe operation and cause personal injury.
In the construction, the method of plugging and discharging is adopted, and the grouting water stopping and plugging technology, a kind of polyurethane material with strong effect of plugging, is adopted for grouting. This material is an MDI based hydrophilic, one-component flexible polyurethane injection resin for waterproofing joints and cracks. In contact with water the resin reacts and expands forming a permanent seal inside the leaking crack or construction joint.
2.Advantage
After reacting with water, the expansion rate can reach 18 times in a short time.
A closed waterproofing system is formed in the crack. And the chemical material compression capacity up to 20 MPa;
The curing time (catalyst content) can be adjusted according to the needs of the project;
The cured body after reaction has good resistance to acid, alkali, organic solvent and chemical corrosion;
Free-solvent.
3.Filed of application
Pipeline, culvert and utility tunnel
4.Process introduction
Preliminary preparation for grouting
1. Find the cracks:
Clean the surface and remove all debris. For expansion joint injections – if possible - make sure that the surfaces of the expansion joint are clean and free from oil.
2. Drilling
Drill the necessary injection holes and install appropriate packers. For screen injections, a matrix grid of appropriate size has to be observed (typically 50 by 50 cm).
For crack or joint injections drill into the crack or joint under a 45-degree angle.
3.Grouting
1. The curing time should be adjusted according to the water leakage. The pump pressure should be low at the beginning of grouting, and then gradually increased until the slurry flows out
2. The slurry bubbles through concrete cracks, which indicates that the slurry transmission and extension are effective
3. When the slurry flows to the whole crack, the grouting is completed.
4. Remove all packers after grouting.
4.Evaluation
A case of leaking stoppage in construction cracks of electric power tunnel.
Before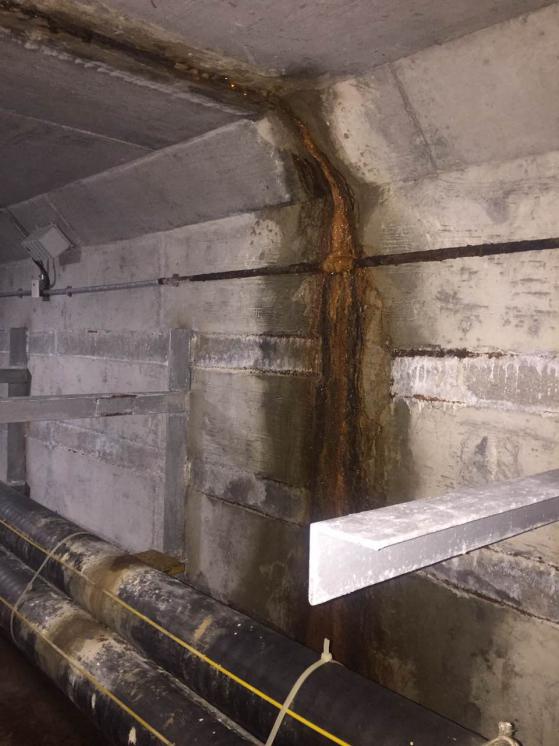 After